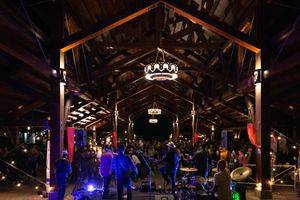 Known for their powerful performances and well-crafted original music, Dakota Pearl brings big country rock to every stage they stand on. Their music combines new country, southern rock and old-time classic country with lyrics about living life out on the back roads, ripping up the honky-tonks and falling in love in a small rural town. Hailing from the beautiful Pemberton Valley, Dakota Pearl's music is inspired by love, life and the hard-working people that surround them. 
Since the band's formation in 2014, Dakota Pearl has performed at Pemberton Music Festival, the Rockin' River Festival, the Music Centre in Nashville, and the Kootenay Country Music Festival. 2022 was one of their biggest summers to date. With performances at Roger's Arena for the Vancouver Warriors country themed night, Three nights at the Let'r Buk  Saloon at the Williams Lake Stampede and their first appearance at Gone Country. Their authentic sound garnered the attention of acclaimed producer Paul Shatto in 2017, leading to their BCCMA nominated EP 
"Big Mountain Music" at Studio Downe Under. Paul's influence on the band and Adam's ever-maturing songwriting gave a new depth to the band's sound as they continued to wow audiences around the corridor and the lower mainland. 
The band returned to the studio in 2019, this time with studio legend Jeff Johnson producing their EP "Nothing to Lose." Their two featured singles "Make it Loud" and" Nothing to Lose" made it into rotation on country music stations across Canada and subsequently were nominated for the 2020 BCCMA Awards. Following on from this success, the band played one of the last ever shows at the iconic Gabby's Country Cabaret in February 2020 and won Battle of the Bands for a slot at Gone Country, the Twins Cancer Fundraising country music festival in Cloverdale. The momentum of this show was cut short in March 2020, as the world came to a stop with the pandemic. The band is currently preparing for another busy summer in 2023 and are working on new material set for release in the spring.